The fiercely hot summer temperatures are fast approaching.  You can expect temperatures to reach over 100 degrees Fahrenheit most days.  
Many cities and HOA's will be asking residents to conserve water this summer by only watering on certain days and times.  This is a common request during the summer in Texas.
Because of this it can be very helpful to gardeners to plant flowers and shrubs that are drought-tolerant.  Drought-tolerant plants have adapted to very dry conditions and are able to survive with minimal water.  
Today I will go over some drought-tolerant grasses, shrubs, and trees that you will want to incorporate into your landscape.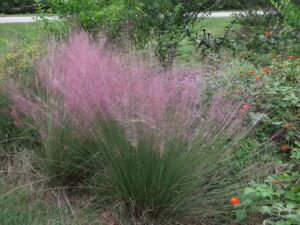 Ornamental Grasses
Mexican feathergrass is a perennial grass that is often planted all across Texas because it is drought-tolerant as well as being cold hardy.  
It thrives in full-sun and will grow 12-24 inches tall and wide.  The grass blades are thin, delicate, and coarse to the touch.  
The downside is that this plant produces many, many seeds which can spread out and begin to grow all over your yard.  
Lindheimer muhly is a warm-season perennial that has been named a Texas Superstar plant by Texas A&M University.  It is a small-medium sized, blue-green grass that grows in an upward arch.  
These plants are the perfect centerpiece or background plant for your landscape.  The flowers bloom in fall with silvery-white- purple-red flowers.  
Gulf muhly also known as pink muhly is a perennial grass that produces pink-purple spikelet flowers.  They will grow 2-3ft tall and will complement fall asters very well.
They are low-maintenance, drought-tolerant, and prefer well-drained soil.  Next time you're out driving, look around.  You will find gulf muhly displayed in many neighborhood entrances and outside lots of restaurants and stores.  
Shrubs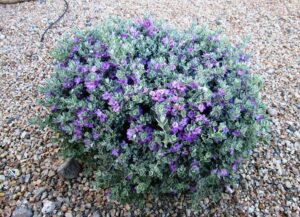 Red yucca is a shrub native to Texas that has beautiful, red flowers.  The flowering stem will extend 5-10 inches in height.   
It is not actually a yucca, but an evergreen shrub.  Leaves change color from blue-green to plum. 
This shrub is drought-resistant and is known to attract hummingbirds.  It can also withstand sub-zero temperatures.  
Texas Lantana is a short shrub that grows 2-6ft in height.  You will find lantana in gardens all across the state of Texas.  It prefers full sun and sandy soil.  
The red, yellow, and orange flowers grow in small clumps.  Lantana is poisonous to some animals and humans, but birds, bees and butterflies love the nectar.  
Texas Sage or cenzio is a full sun evergreen to semi-evergreen shrub that grows 5-6ft.  It can survive in extremely hot, torrid conditions.
Cenzio prefers well-drained soil and full sun.  It has purple flowers that bloom in summer.  This plant requires little to no pruning.  
It is a superb plant that requires very little maintenance.  It is cold-hardy down to 5-10 degrees Fahrenheit.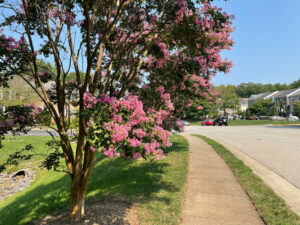 Trees 
Crape myrtle is a very versatile, drought tolerant plant found all over North Texas.  Although it's important to note that the roots need to be well-established before the tree becomes drought-tolerant.
This tree flowers all summer and comes in shades of white, pink, or lavender.  In fall, the leaves turn from yellow to orange to red. 
There is a dwarf size, which grows 3-6ft tall and a semi-dwarf size that grows 7-15ft tall.  It prefers full sun and well drained soil.  If crape myrtle is planted in partial shade, flowering will be reduced.  
Oak trees are very popular in Texas.  There are many different kinds of oak trees, but once their roots have fully developed, they require very little watering.  
Newly planted oak trees will need regular watering and fertilizer.  The roots need to be covered with soil at all times. 
Plan to have oak trees pruned once a year.  Oak wilt is a common disease.  Look for leaves that are pale brown, pale green, or wilted.  
Final Thoughts 
Texas is a great state, but it is known for having extreme weather.  Plants that have not adapted themselves to these harsh conditions, will not survive.  
Any of these drought-tolerant plants would be a great addition to your landscape while at the same time requiring minimum care on your part.  
Drought-Tolerant Plants for North Texas