Texas is famous for its vast expanses of wildflowers, stretching as far as the eye can see. Every year, from March through May, Texans are treated to a colorful display of wildflowers as they bloom across fields and highways.
If you're a Texas homeowner, there's no reason why you can't bring that beauty to your lawn. In this post, we'll explore some beautiful Texas wildflowers that you can plant in your yard to create a stunning landscape.
One way to make your landscape stand out is to maintain your garden beds and your lawn. Take a look at our weekly lawn mowing service page today.
5 Popular Wildflowers of Texas
Bluebonnets
Black-eyed Susans
Indian blanket
Coreopsis
Mexican hat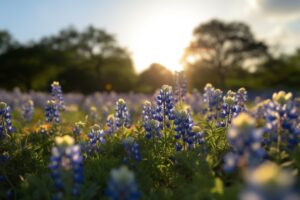 Bluebonnets
The state flower of Texas, bluebonnets are a sight to behold when in bloom. These flowers grow up to two feet tall and have bluish-purple petals with a white center.
Bluebonnets are often used in Texas gardens and take well to most soil types, as long as they have good drainage. Plant them in masses for a stunning spring display. Apply a balanced fertilizer for optimum growth.
Black-eyed Susans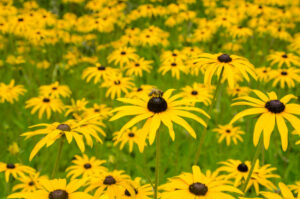 Black-eyed Susans are a bright and cheerful flower that bloom in late spring and summer. These vibrant yellow or orange flowers have a dark center, hence their name.
They thrive in full sun and well-draining soil and are a popular choice for adding pops of color to a garden bed. Black-eyed Susans attract pollinators like bees and butterflies, making them a great addition to any garden.
After you finish enhancing your landscape beds, go one step further. Hire us to install fresh sod in any bare patches taking over your lawn. Our sod installation service page has all the information.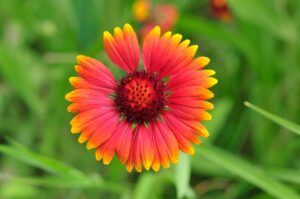 Indian Blanket
Indian blanket is a unique and beautiful wildflower that grows in Texas and other parts of the country. These flowers have bright red or yellow petals with a dark center, resembling a geometric pattern.
They bloom in early summer and require full sun and well-drained soil. Indian blankets are especially useful for creating a wildflower meadow or adding them as a border.
Coreopsis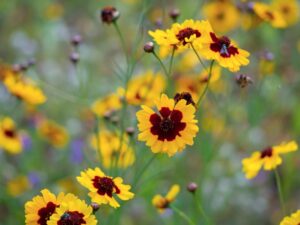 Coreopsis, commonly known as tickseed, is a hardy wildflower that blooms bright yellow or pinkish-red flowers throughout the summer. These flowers are drought tolerant and attract pollinators like bees and butterflies.
They require full sun to partial shade and well-drained soil to thrive. Coreopsis can also be used as a cut flower due to its long stem and vibrant colors.
Contact us today for any landscaping questions you have. Check out our landscaping service page for more details.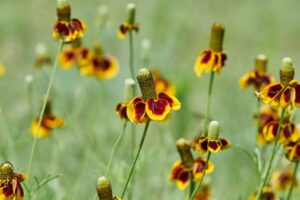 Mexican Hat
Mexican Hat is a unique wildflower with red or yellow petals and a long, cone-shaped center. These flowers bloom in mid-summer and attract hummingbirds, butterflies, and bees.
Mexican Hat requires full sun to partial shade and well-drained soil. They are a great choice for adding height and color to a garden or flower bed and are a popular addition to wildflower meadows.
Final Thoughts
In conclusion, adding Texas wildflowers to your lawn is an excellent way to create a beautiful and natural landscape. Consider adding a mix of flowers to create a colorful display throughout the year and attract pollinators to your yard.
Just make sure to choose flowers that thrive in your specific area and soil type, and apply the necessary care to ensure they are healthy and happy.